Parts of a Flower Worksheets
Hop on our free, printable parts of a flower worksheets and explore in detail each delicate component that makes up the structure of a flower. As the reproductive part of a plant, the flower ensures the survival of the species, making it thoroughly deserving of the spotlight in these worksheets. Home to exercises such as labeling flower parts and matching the parts to their definitions, this collection also includes a colorful chart.
These parts of a flower worksheet pdfs are recommended for children in grade 4 and grade 5.
NGSS: 4-LS1-1
A clearly labeled flower diagram is the crown jewel of this chart that can be put up in your 4th grade kids' room for them to get acquainted with parts such as petal, sepal, and more.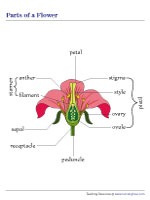 Labeling the Parts of a Flower
Assess how familiar the budding botanists in 5th grade are with the delicate structure of a flower. Get them to label the diagram in this printable parts of a flower worksheet.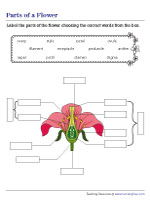 Matching Flower Parts to Their Definitions
Take practice a step further with this exercise that involves drawing lines to match the flower parts listed on the left to their crisp and concise definitions given on the right.