Levers Worksheets
Our free, printable levers worksheets are a good addition to your resources. Be sure to bring to the fore the fact that we use a lever, a simple machine made of a rigid beam and a fulcrum, to do work with minimal effort. Let your learners learn and practice levers from A to Z with our worksheets on identifying classes of levers, labeling parts of levers, and many more.
Our levers worksheets are ideal for grade 3, grade 4, and grade 5 kids.
Identifying the Three Classes of Levers
Based on where the load, fulcrum, and effort are located in them, levers are classified into three types. In this three classes of levers worksheet pdf, figure out the kind of lever exemplified by each machine.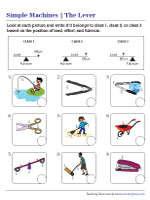 Matching Machines to Classes of Levers
A pair of scissors and a bottle opener are both examples of levers, but the two show more differences than similarities. Match each machine to the class of lever it belongs to in this printable exercise designed for learners in 3rd grade, 4th grade, and 5th grade.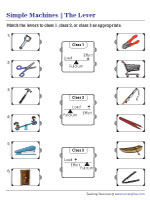 Pay attention to the position of the fulcrum, and you'll breeze through the labeling task in this levers worksheet pdf for grade 3, grade 4, and grade 5. Label the fulcrum, effort, and load in each machine, before writing which class of lever it is.