Sorting 2D Shapes Worksheets
A visual shape-tastic treat, our collection of free printable sorting 2D shapes worksheets gets kids sorting shapes with their eyes glued to wide-ranging, engaging exercises. Traverse through the terrain of quadrilaterals, polygons, and ovals to chart your course to geometric enlightenment!
This sorting 2D shapes worksheets pack is recommended for grade 1 and grade 2.
Sorting 2D Shapes | Cut and Glue
Tune in to enjoy the thrills and spills of sorting shapes and piecing them together by employing this 1st grade pdf toolkit. Transmute simple 2D shapes into beauty as you cut, sort, and glue your way to victory!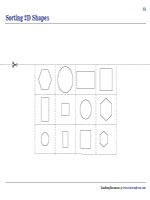 Understanding Features of 2D Shapes
Step up to the plate and get working on the challenge in our sorting 2D shapes pdfs. Make the most of your knowledge of different features, such as sides, corners, and curves, of these shapes to complete the task.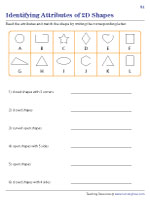 Sorting 2D Shapes | Venn Diagram
Get ready to orchestrate a masterpiece of categorization as you work your way through this 2nd grade worksheet set. Watch your sorting skills thrive as you arrange 2D shapes in the groups displayed on the Venn diagram.