Skip Counting Worksheets
Navigate through this series of free, printable skip counting worksheets that helps build number sense and counting skills as kids work their way through a large variety of pdf exercises like number lines, blank charts, display chart, and many more. A math aspect abounding with brilliance, skip counting lays a firm foundation and helps kids to count forward from different starting numbers.
These skip counting worksheet pdfs are drafted for kids in kindergarten through grade 4.
CCSS: K.CC, 1.OA, 2.OA, 2.NBT
List of Skip Counting Worksheets
Do you want your kids to count forward like a seasoned pro? Here's a set of worksheets to build the skip counting skills of kindergarten, grade 1, and grade 2 children.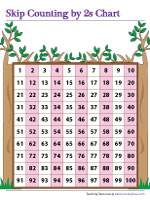 Introduce your math whiz in 1st grade to the wisdom at play in skip counting! Gain a solid foundation by completing the blank chart and filling in the missing numbers.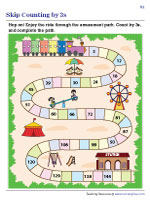 Mold your kids into math masters with these skip counting worksheets pdf! Challenge kids to count forward and complete the exercises in this compilation.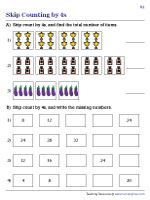 Practice skip counting like a breeze! Skip counting is the easiest way to count groups of objects efficiently. Use our worksheets to get the hang of this technique.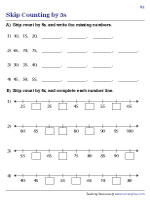 Jump and skip through this set of printable skip counting worksheets for grade 2 and grade 3. Count forward to fill in the blank chart, complete the missing numbers and more.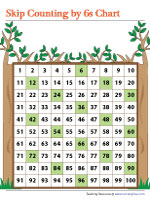 Depicting numbers in intervals of 7, these worksheets center around skip counting. Prompt students to add 7 to the previous number to sail through to success!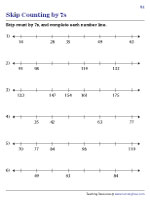 Boggle and blow away young learners in grade 4 with these skip counting pdfs! Improve their counting skills by making them recite the skip counting sequence of the given number.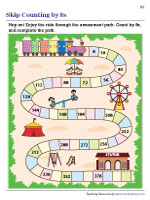 Don't fret about your skip counting anymore! Add groups of 9, fill in the missing numbers, and complete the number sequence and number line by counting by nines.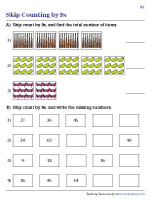 Kids enter the world of skip counting with this set of pdf skip counting worksheets for kindergarten through grade 3! Just add 10 to each number to extend the sequence.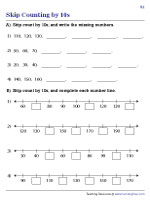 Dole out skip counting wisdom bit by bit! Let 2nd-grade, 3rd-grade, and 4th-grade kids complete these printable skip counting worksheets by adding 11 to the number before.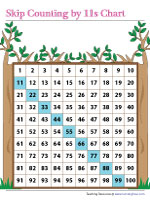 A stepping stone to times tables, skip counting can be mastered using different tools like display charts, number sequences, number lines, counting groups of objects, and more.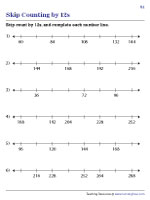 Embark on skip counting with great gusto! Walk through these printable skip counting worksheets to count forward by adding 100 to the previous number.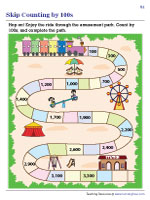 Having honed skip counting forward, children now excel in the skill of backward counting. With exercises to count down, counting backward is not a tall order!