Reading a Calendar Worksheets
Breeze through this collection of free reading a calendar worksheets and equip young learners to fluently read the monthly calendar and yearly calendar and answer the questions using the information from the calendar. These reading calendars pdfs with word problems have questions based on days, dates, weeks, and months.
These pdf worksheets are recommended for students in kindergarten and grade 1.
Provide students with an opportunity to learn the different days of the week with these printable worksheets, which steal the limelight thanks to a range of activities and exercises.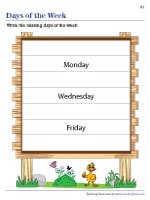 Are you scouting for worksheets to teach the 12 months of the year? Fret not! We've got you covered. Our worksheets are packed with activities for kids to deepen their insight into months in a calendar year.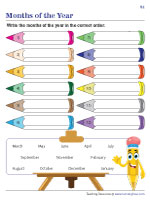 Spark your love for learning with our seasons printable worksheet. Filled with images of different seasons, this pdf requires kids to identify the season and write it in the blank space.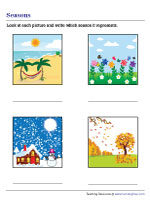 Reading Monthly Calendars | Easy
Get familiarized with reading a simple monthly calendar with this eye-catching resource designed for kids in kindergarten. Included here are calendars with comprehension questions.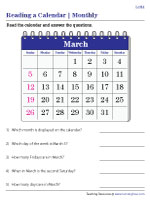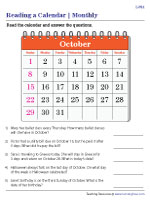 Reading Yearly Calendars | Easy
Displaying a full-year calendar, each worksheet on reading a calendar has a set of questions based on holidays, school break, birthdays, and many more.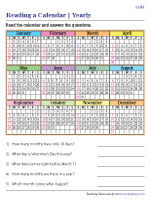 Reading Yearly Calendars | Moderate
Add a bit of flair to your learning with these exclusive reading calendars pdfs. Teach your first grade kids to read a calendar, to find how long an event will last, and to calculate the days surrounding a date.