Addition Worksheets
Kick-start your kids' journey into the world of calculations with our free, printable addition worksheets. The myriad number combinations in this collection help children develop an understanding of addition with and without regrouping. First up are exercises with addends small and simple enough for beginners, followed by multi-digit numbers.
These pdf addition worksheets are ideal for children in kindergarten through grade 5.
List of Addition Worksheets
How does addition work in everyday life? Where is it applied? Find out with this assortment of word problems involving loads of real-life adding scenarios!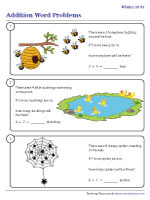 Addition and the number line are so inseparably made for each other! These fun pdf worksheets get children hopping excitedly while adding numbers using number line models.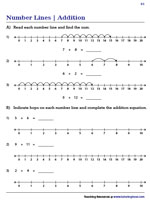 Get young learners ecstatic about adding numbers using ten frames! Walk through this printable set that incorporates 10 frames for budding math wizards to practice addition to their hearts' content.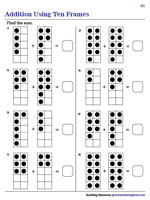 Boost basic numeracy with these adding numbers worksheets pdf for kindergarten and grade 1 kids. Improve computational skills with problems involving sums up to 10.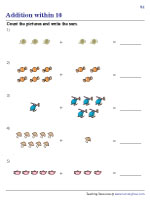 These worksheets with addends that sum up to 20 are the way to go for math lovers in grade 1 and grade 2 to solve addition problems accurately and confidently.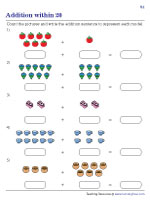 Introduce two-digit addends in this section, where 1st grade and 2nd grade children learn to add numbers efficiently, inching ever closer to addition perfection.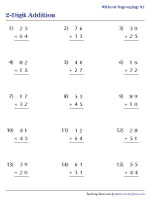 A two-digit number and a single-digit number join hands to form each addend pair in these exercises, as kids take yet another important step in their addition adventure.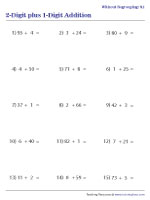 Buckle up with these printable worksheets featuring 3-digit addition problems for 2nd grade and 3rd grade learners to fluently total addends under 1,000.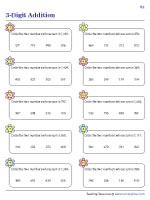 Tackle a host of addition problems, each featuring a 3-digit addend and a 2-digit addend. Keep in mind the place values of the digits as you add them.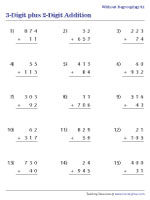 Hit a home run with these addition worksheets pdf, where 4-digit numbers reign supreme. Train 3rd grade and 4th grade learners in adding numbers under 10,000 with ease.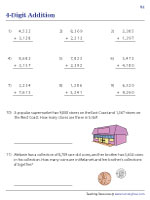 The bigger the addends, the more the fun! Handle numbers up to 99999 like a pro with these printable addition worksheets, where the task is to find the sum of 5-digit addends.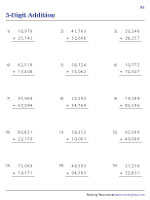 Numbers up to 999999 don the hats of addends in these practice problems, where finding the sum may be a tad trickier, but certainly no less exciting.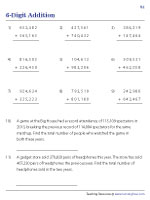 The larger the number, the more daunting it may appear. But fret not, for these worksheets with 7-digit addends will ensure kids are perfectly at home handling these behemoths.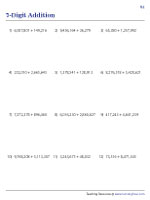 Cruise through these printable worksheets curated to test the potential of students in grade 4 and above. Simply sit back and watch your child compute multi-digit addition effortlessly.