Adding Large Numbers | Multi-digit Addition Worksheets
Our free, printable multi-digit addition worksheets are sure to make math fun for children in grades 4 and 5. Jazz up their practice sessions by accessing this exclusive collection of adding large numbers worksheets, which include engaging exercises that task kids with finding the sum of multi-digit numbers through standard problems or word problems. Kids also get to perfect the skill of adding large numbers using the line-up addition method.
These pdf worksheets are designed for 4th grade and 5th grade students.
CCSS: 4.NBT
Exclusive Multi-digit Addition Worksheets
Adding Multi-digit Numbers | Standard
Be a trailblazer and encourage your peers to use these printable worksheets involving large numbers to find the sum of multi-digit numbers. With the addends arranged one beneath the other, remember to regroup if needed.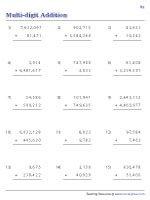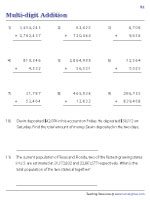 Multi-digit Addition | Line-Up
Assess grade 4 and grade 5 children's addition skills by introducing them to this pack of print-ready practice worksheets, featuring multi-digit addends. Kids are challenged to find the sum, putting into use the line-up method.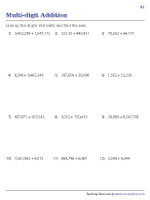 Multi-digit Addition Word Problems
Give children access to our printable multi-digit addition word problems worksheets, featuring word problems whose real-world scenarios make adding large numbers a cinch.