7-Digit Addition Worksheets
Reorient addition practice with our free, printable 7-digit addition worksheets. Featuring practice problems where both the addends have seven digits, this collection assesses your children's ability to handle addition of large numbers. Breezing through these exercises, some of which contain word problems, young math wizards also get to flex their familiarity with regrouping as they find the sum of 7-digit numbers.
We recommend our 7-digit addition worksheets pdf for grade 4 and grade 5 kids.
With practice, adding huge numbers becomes easy as pie. Offer 4th grade kids all the practice they need through these pdf worksheets where they add 7-digit numbers.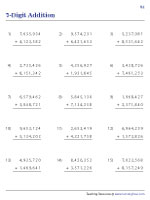 7-Digit Addition with Word Problems
Give 5th grade children a taste of 7-digit addition in real life using the word problems in these worksheets that also contain practice problems featuring the column method.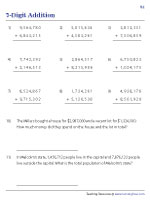 Lining Up and Adding 7-Digit Numbers
First, line up the numbers one below the other, and then add them up in these printable adding 7-digit numbers worksheets. Write the sum in the space provided.