6-Digit Addition Worksheets
Become competent in adding, an essential skill in our day-to-day life, by answering our 6-digit addition worksheets. Versatile from the get-go, this resource tasks students with finding the sum of 6-digit numbers arranged in vertical format, solving word problems, and lining up the addition sentences. What are you waiting for? Forge ahead and explore our free pdf worksheets.
We recommend these pdf worksheets for students in grade 3 and grade 4.
Provide grade 3 and grade 4 kids some 6-digit vertical addition practice using these printable 6-digit addition worksheets with numbers stacked by place value. Start adding the numbers in the columns from the right.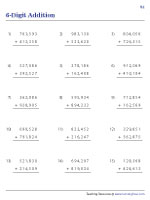 6-Digit Addition | With Word Problems
Directing attention to addition of 6-digit numbers up to 999,999, these pdfs include addition problems and story problems for 3rd grade and 4th grade kids to get a taste of how addition plays out in real life.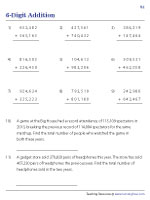 Lining Up Addition | 6-Digit Numbers
Line up the addition expression in vertical format and add the numbers to find the sum of 6-digit numbers. Make sure the digits are lined up according to their place values.