Writing 3-Digit Numbers in Words Worksheets
Spread your wings with our free, printable writing 3-digit numbers in words worksheets. Number words are the alphabetical form of numbers. As the name suggests, these are numbers written in words. For example, 333 is named three hundred and thirty-three. That's enough preparing the ground; now get started to witness how words make everything better, smoother, and kickier.
These pdf resources are ideal for 2nd grade and 3rd grade.
CCSS: 2.NBT
Writing 3-Digit Numbers in Words
Number names are more than just a fancy mathematical idea. So provide kids with scads of practice at home or in the class writing 3-digit numbers in words with the wealth of our printable worksheets.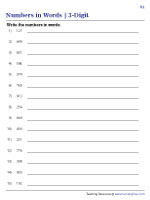 Expressing Word Names as 3-Digit Numbers
Let kids make number names a routine that they like to settle into. Instruct children in grade 2 and grade 3 to read the word names and figure out the ones, tens, and hundreds places to write the number correctly.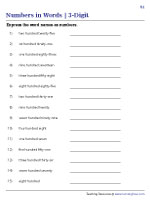 3-Digit Number Names | Revision
Propelled by our pdf worksheets with combined exercises, kids will have a knack for number names. Whether it's numbers to words or words to numbers, success is now guaranteed.