Writing 5-Digit Numbers in Words Worksheets
Take your writing numbers in words skill a notch up with our printable, writing 5-digit numbers in words worksheets. The key is to have a near-thorough knowledge of the place values, and remember every progressive place value is the earlier place value multiplied by 10. If this sounds Greek to you, go straight to the worksheets, where there are loads of 5-digit numbers waiting for you. Try writing each number in word form and vice versa.
These pdf resources work brilliantly well for grade 3, grade 4, and grade 5.
CCSS: 4.NBT
As a matter of fact, 5-digit numbers are a bunch that excites and a wee bit tricks learners with their conversion. Our printable worksheets help big time. Look carefully at each digit, identify the place value, and jot down the number name.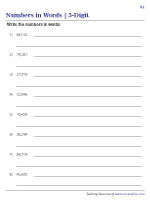 Expressing Word Names as 5-Digit Numbers
Enhance number names practice utilizing our pdf worksheets designed for 3rd, 4th and 5th grade kids. Attentively read each number name so writing its numeral counterpart is hardly a thing to worry about.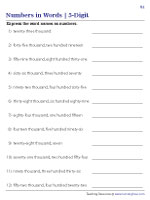 5-Digit Number Names | Revision
Our writing 5-digit numbers in words worksheets are exclusively designed to help children effectively learn converting between number names and numbers and become well-versed with the process.