6-Digit Numbers in Words Worksheets
Give children a wealth of practice writing 6-digit numbers in words as well as expressing the word names as numbers with our printable, pdf worksheets! Help them adeptly convert the number while strictly playing by the conventions of place value applicable for six-digit numbers. Keep them informed of how numbers are used in the spoken language, too. At the end of practice, clarity on numbers, quantities, and names is guaranteed.
Our 6-digit numbers in words worksheets are perfect for 3rd grade, 4th grade, and 5th grade students.
Writing 6-Digit Numbers in Words
Give 6-digit numbers their due attention, or you may lag behind your peers. Practice writing hundred thousands in words with these exercises. Get kids to flex their place value skills and name the 6-digit numbers.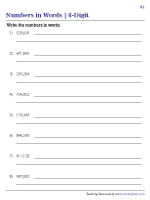 Expressing Word Names as 6-Digit Numbers
You will now crave for more tasks in writing 6-digit numbers for words! Presenting a dozen names of numbers for practice, each pdf worksheet here serves well in assessing the number-naming skills of young learners.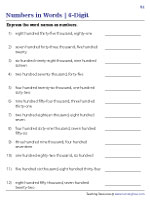 6-Digit Number Names | Revision
Exercises coming up offer a combined review of 6-digit number names ideal for kids in grade 3, grade 4, and grade 5. Convert from the standard form to word form in part A, and vice versa in part B.