Writing Billions in Words Worksheets
Our printable writing billions in words worksheets shine the light on the concept of ultra-large number names. While children can toss off the answers to most of their number name tasks in a flash, things get a little trickier when naming numbers in billions. This specially crafted collection helps children express billions in words and vice versa with precision. Watch budding math wizards effortlessly gallop through billions - 10-digit, 11-digit, and 12-digit numbers in these exercises.
These pdf billions in words worksheets are best suited for grade 4, grade 5, and grade 6 children.
Instruct 4th grade and 5th grade kids to solve these writing billions in words worksheets by figuring out the word forms of the given billions. Refer to the answer key to validate your answers.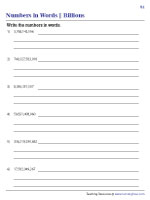 Express Word Names as Billions
Solve these exclusive pdf exercises, where young learners diligently observe, understand, and write the billions as numerals based on their correct place values using the given number names.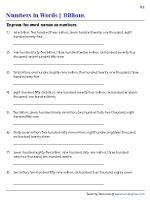 Number Names - Billions | Revision
Grab these 2-part, printable worksheets that provide ample practice for 5th grade and 6th grade children in expressing billions as numerals from words, and in words from numerals.