Decimals in Words Worksheets
Smash it out of the park with our collection of decimals in words worksheets for young students to understand how to name and write decimal numbers correctly. The number of digits in each decimal number varies throughout these free printable exercises. These pdf worksheets help students review the concept of decimal numbers while converting between words and number values.
We suggest these resources for young learners in grade 4, grade 5, and grade 6.
Write Decimals in Words | Up to Thousandths
Eliminate any confusion your little genius may have while writing decimal numbers in words! Ensure kids get scads of practice in writing number names to decimal values in these pdf worksheets.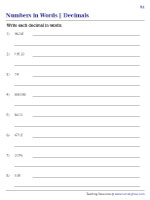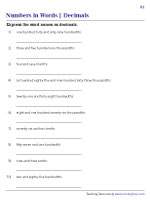 Decimals in Words | Revision | Up to Thousandths
Employ this must-have practice tool for 6th graders and encourage them to display their skills in identifying and writing decimals in words and number names to decimals accurately. Make use of the answer keys to verify the results.