Tally Marks Word Problems Worksheets
Run rings around your peers by successfully completing our free tally marks word problems worksheets, which help perfect your techniques for reading tally charts and analyzing data. If you hammer home the fact that a tally chart is a table showing the tally marks for each category, answering the questions after perusing the tally chart will be a cinch. Prove your analytical chops by solving word problems involving addition and subtraction.
This set of printable tally marks word problems pdfs is recommended for students of grade 2 and grade 3.
Read and Interpret | Tally Marks Word Problems
Tally marks are an easy and fun way to show data. Put the counting skills of 2nd grade and 3rd grade kids to test by counting the number of lines in the tally chart and use the information in the chart to answer the questions.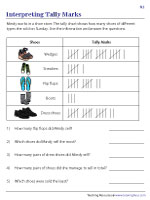 Draw and Interpret | Tally Marks Word Problems
Zoom in on the images in the picture box, count the number of images of each group, draw the correct number of tally marks to represent the total number of items, and answer the questions.