Subtracting Fractions Using Visual Models Worksheets
Relish the joy of subtracting fractions using visual models through these free, printable worksheets. The tasks in these pdfs involve subtracting like or unlike fractions using visual models and subtracting fractions with the help of number line models. As you forge ahead performing fraction subtraction, do strike a chord with the highly engaging and dynamic visual aids, including pie models, fraction bars, and number lines.
These subtracting fractions using visual models worksheets pdf are recommended for grade 4, grade 5, and grade 6 kids.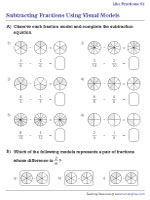 Subtracting Unlike Fractions with Visual Models
Help 5th grade, and 6th grade kids to see that the shaded parts show the numerators and number of partitions show the denominators. Using a common denominator is key to tackling these exercises.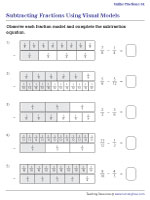 Subtracting Fractions on a Number Line
These printable worksheets featuring number line models will help beginners and seasoned learners alike enhance their knowledge on subtracting fractions, making them flush with success in no time.