Addition Word Problems Worksheets
Give a new lease of life to your math practice with our free pdf addition word problems worksheets. Let children solve these pdfs by addition of whole numbers, both with regrouping (carrying) and without regrouping. These word problems on addition provide abundant practice on addition within 10; sums up to 20; and 2-digit, 3-digit, 4-digit, and large (multi-digit) numbers.
These printable worksheets on addition word problems are suitable for kindergarten through grade 5 children.
CCSS: K.OA.A.2, 1.OA, 2.OA, 2.NBT, 3.NBT, 4.NBT
List of Addition Word Problems Worksheets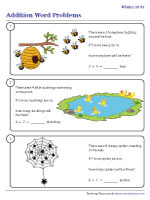 Addition within 20 Word Problems Worksheets
Introduce these printable sums up to 20 word problem pdfs to give kids the pick-me-up they need while doing addition within 20. These beginner-level resources are great for kindergarten, grade 1, and grade 2 kids.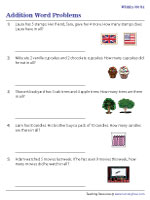 2-Digit Addition Word Problems Worksheets
Analytically read real-world scenarios and find the sum of two 2-digit numbers. Our addition word problem worksheets on adding numbers within 100 are a delicious addition treat for 2nd grade children!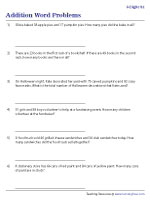 3-Digit Addition Word Problems Worksheets
Instruct children in 3rd grade and 4th grade to solve these 3-digit by 3-digit addition word problems worksheets and watch them ace addition up to 1000 by regrouping wherever necessary.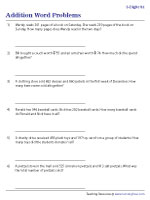 4-Digit Addition Word Problems Worksheets
Addition is math at its most playful, and with our printable word problems for addition worksheets involving 4-digit numbers around, grade 3 and grade 4 learners won't need to look any further.