Subtraction Word Problems Worksheets
Grab our free, printable subtraction word problems worksheets and give children an edge over their peers! Understanding the importance of word problems, our experts have curated pdf worksheets for subtraction with regrouping, or borrowing, and subtraction without regrouping. Practicing subtraction of smaller numbers as well as large (multi-digit) numbers has never been this easy!
Our subtraction word problem pdfs are suitable for kindergarten through grade 5 students.
CCSS: 1.OA, 2.OA, 2.NBT, 3.NBT, 4.NBT
List of Subtraction Word Problems Worksheets
Subtraction within 10 Word Problems Worksheets
Are you looking for subtraction word problems worksheets? We have the perfect pdfs for you. Filled with interesting scenarios from the real world, these word problems give a taste of real-life situations to kids.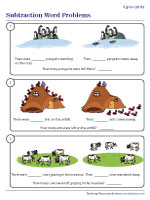 Subtraction Within 20 Word Problems Worksheets
Check out our real-life scenarios that pique kids' interest and celebrate their problem-solving skills! A lovely bunch of subtraction word problems pdfs dedicated to subtracting within 20.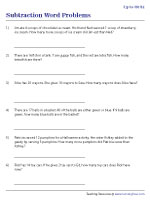 2-Digit Subtraction Word Problems Worksheets
Spice up your practice with our printable subtraction word problem worksheets! 1st grade, 2nd grade, and 3rd grade children can readily relate to these simple, everyday situations and perform mixed subtraction within 100.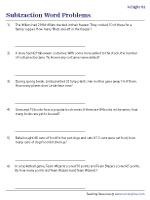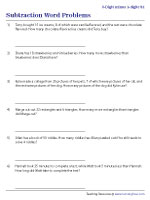 3-Digit Subtraction Word Problems Worksheets
Practice subtraction up to 1000 with regrouping and without regrouping using highly engaging story problems. Learning 3-digit subtraction will now be thrice as eagerly awaited.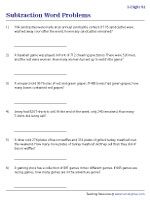 4-Digit Subtraction Word Problems Worksheets
Step into this collection of pdf 4-digit subtraction word problems worksheets for 4th grade and 5th grade kids. Boost your proficiency at finding the difference between numbers in thousands in these printables.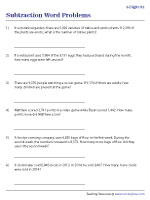 Multi-Digit Subtraction Word Problems Worksheets
Dive into a pool of fun multi-digit subtraction word problems in these subtracting large numbers pdf worksheets. These printable tools containing 5-digit and 6-digit numbers are ideal for grade 4 and grade 5 students.