Ordering U.S. Money Worksheets
Children will treasure our free printable ordering money worksheets, which not only arm them with the right knowledge of money but also prepare them to handle money of different denominations with ease. Included here are unique, well-organized exercises that train kids up to order U.S. coins and bills from greatest to smallest and vice versa. Watch young learners learn the obverse and reverse of coins by heart as they answer these pdfs!
These ordering money worksheets pdf work best for 2nd grade, 3rd grade, and 4th grade children.
Exclusive Ordering U.S. Money Worksheets
Ordering the Faces of Coins | Cut and Glue
Kids will take the classroom by storm after answering these printable ordering money cut-and-glue worksheets. Instruct kids in grade 3 to take a closer look at the obverse and reverse of the U.S. coins and arrange them in order.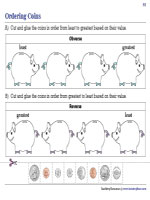 Arranging Amounts in Order | Coins
Prove your mettle in our ordering money worksheets pdf for grade 2! Observe the containers, write how much money there is in each, and order the kids' names as instructed after finding out who has the most and least money.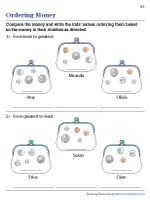 Counting and Ordering | Coins and Bills
Ask the little geniuses in grade 4 to rehearse with our pdf resource on ordering U.S. coins and bills, where they find the ascending or descending order by value to answer the riddle, before you test their counting and ordering skills.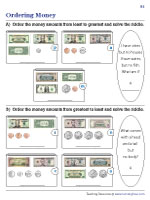 Print out our comparing U.S. money worksheets and get the ball rolling by answering these fun and interactive exercises! Flex your comparison skills, as you compare and contrast an array of U.S. bills and coins.