Coloring, Tracing, and Drawing Shapes Worksheets
Join the ultimate creative workout in our free printable coloring, tracing, and drawing shapes worksheets, and explore the world of two-dimensional shapes through a fusion of color, precision, and freehand expression. Get working on this pdf set featuring exercises that are not just practice but an artistic adventure!
These pdf coloring, tracing, and drawing shapes worksheets are best suited for kindergarten and grade 1 kids.
Select Coloring, Tracing, and Drawing Worksheets by Shape
Here's a fun and engaging way to improve your hand-eye coordination and precision! Jump from one shape to another, tracing the outlines by following the dotted lines and curves.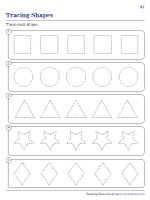 Introduce little ones to our color by shapes pdfs, and watch them bring a plethora of two-dimensional shapes to life with a burst of color, thus transforming plain shapes into stunning works of art!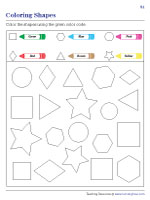 Color, Trace, Connect, and Draw the Shapes
Amp up your skills with our ultimate shapes extravaganza! Dive into a world of creativity where you'll color vibrant shapes, trace their elegant lines, and even craft your unique designs.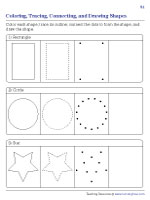 Drawing 2D Shapes of Different Sizes
Get ready to express yourself and turn simple shapes into dazzling masterpieces with our 1st grade 2D shapes pdf worksheets. Become a pro at drawing shapes of different sizes.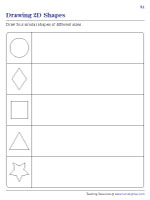 Tracing and Coloring the Shapes | Themed
Build a solid foundation for shape identification with these pdfs. This themed exercise offers a dynamic approach to understanding shapes by inviting kids to trace and color the shapes.