Sort and Count Worksheets
At the heart of our free, printable sort and count worksheets is our urge to simplify sorting, counting, and classifying objects into categories. Our pdfs heavily draw from everyday objects so children not only easily connect to them but also substantially improve their sorting and counting skills. The cognitive tasks include coloring the objects using the color code, sorting objects, counting the number of objects in each type, and more. Help the little ones reap the benefits of their mathematical and logical thinking by mastering sorting and counting skills.
These pdf worksheets are suitable for preschool, kindergarten, and 1st grade children.
CCSS: K.MD
These categorization worksheets, featuring colorful images, ask kids to sort, count, and classify based on colors. This practice tool will work wonders for little ones from preschool through grade 1.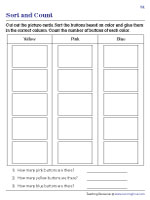 How many different kinds of vehicles, outfits, and fruit do you see? Learn to sort and count objects with a fun coloring activity. Color-code the different types in each category to get them organized!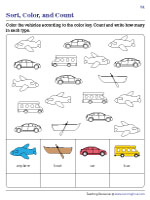 These adorable worksheets provide kindergarten kids a hands-on experience in counting and classifying. The task here is to count the objects and animals, categorize them appropriately, and answer the given questions.