Area of a Rhombus Worksheets
Created, curated, and edited by math specialists, our printable area of a rhombus worksheets help kids develop fluency in using the diagonals and calculating the area of these diamond-shaped quadrilaterals. Rhombuses, also called rhombi, have sides of equal lengths and opposite angles of equal measures. Illustrated for ease and clarity, each free worksheet consists of 9 problems that guarantee a solid understanding of this unique geometric shape and utilizing its properties to find the area.
Our pdf worksheets are designed to address the learning needs of 6th grade, 7th grade, and 8th grade students.
CCSS: 6.G, 7.G
Select the Measurement Units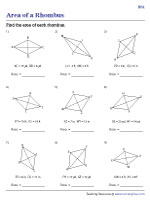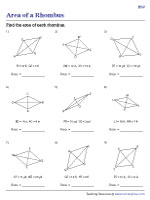 Area of a Rhombus | Integers - Moderate | Worksheet #1
The area of a rhombus is half the product of its diagonal lengths. We've put together a set of picture-illustrated exercises with a moderate level of difficulty for children in 5th grade and 6th grade to prove their solving mettle with.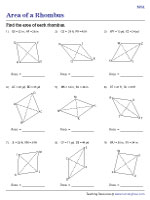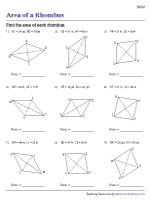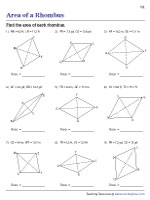 Area of a Rhombus - Decimals | Worksheet #2
Consistent practice with decimals can significantly improve students' skills in calculating tricky numbers and finding the correct answer. Grade 6 and grade 7 students make headway in working with decimals!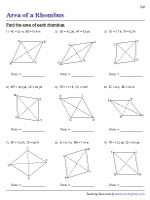 Area of a Rhombus - Fractions | Worksheet #2
Don't be stressed out if children find fractions tricky! Use this area of a rhombus worksheet featuring fractional dimensions, and they will soon know the area of rhombuses like the back of their hand. Use answer keys if required.