Reading Rulers Worksheets
Our free worksheets on reading rulers offer adequate practice in recording measurements indicated on a ruler in both the customary and metric units of length. They also serve as a great practice for your young learners to get accustomed to measuring lengths of objects accurately for several academic and general purposes. Make the best of this interesting learning opportunity now!
These printable worksheets are highly recommended for 2nd grade and 3rd grade students.
In these pdf reading rulers worksheets, children write down the precise length in centimeters, taking into account the decimal values in case the measurement falls between whole numbers.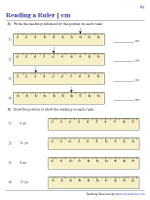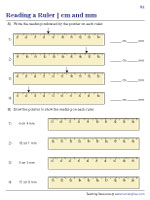 Hand out these printable worksheets to 2nd grade and 3rd grade children to drill them in reading rulers in order to practice measuring lengths in the customary unit of inches.