Volume of a Rectangular Prism Worksheets
This compilation of free printable volume of a rectangular prism worksheets comes in handy when middle school students struggle to determine the volume of rectangular prisms. Bolster practice with exercises presented as 3D shapes with dimensions expressed as integers, decimals, and fractions. Instantly calculate the volumes using the formula V = lwh.
These pdf worksheets are specially designed for students of the 7th grade and 8th grade.
CCSS: 7.G.6
Select the Measurement Units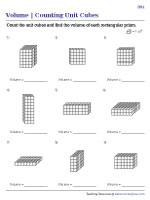 Volume of Rectangular Prisms - Cubes
Give free rein to the geometric genius within you as you tackle exercises where the task is to calculate the volume of cubes using the relevant formula.