Ten Frames Worksheets
Allow kids to explore how they can count numbers with our free, printable ten frames worksheets. These pdfs contain exercises featuring 10 frames, i.e., two-by-five rectangular frames to illustrate numbers up to 10 by counting the dots. Consolidate number sense with ten frames and double ten frames. Kids learn to count and identify numbers using counters, among other activities, in our practice worksheets with answer keys.
These pdf ten frame worksheets with answers are recommended for preschool, kindergarten, and grade 1 kids.
CCSS: K.CC, 1.OA
Exclusive Ten Frames Worksheets
Delightfully illustrated, these worksheets help count up to 10 effortlessly. Kids must count the number of dots on the frames and write down the number in the blank below each picture.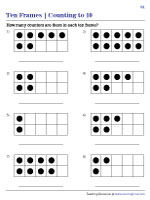 The double ten frames in these printable 10 frames worksheets make counting up to 20 a piece of cake. These meticulously-crafted practice tools help you grow your child's inner genius!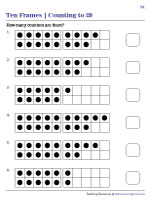 Hands-on practice cultivates love for numbers in your kindergarten and 1st grade kids' minds. Make use of these worksheets on making ten and forming addition equations using ten frames.
Addition Using Ten Frames Worksheets
Motivate your child to perform addition of single-digit numbers represented by double ten frames and finding the sum up to 20. Go ahead and enhance your child's understanding about numbers.