Analogies Worksheets
Gravitate toward our free, printable analogies worksheets to practice to your heart's content a figure of speech that compares two completely different things sharing similar characteristics. Give kids loads of preparation in thinking logically by analyzing how words and ideas are related using our analogy worksheets with answers pdf.
These analogies worksheets pdfs are ideal for kids in grade 1 through grade 5.
CCSS: L.5.5
Analogies formed from names of animals are perfect for 1st grade and 2nd grade kids to kick-start their analogy practice. Read attentively and complete each analogy.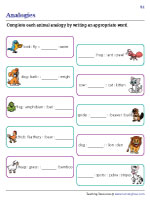 Sports and games are fertile fodder for analogies. Task grade 1 and grade 2 children with completing the sport analogies in these printable analogy worksheets.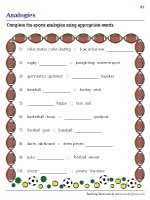 Watch all your favorite holidays in merry action as you breeze through these analogies worksheet pdfs, completing each analogy inspired by the holidays.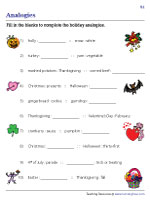 Synonyms and Antonyms Analogies
Children in grade 3 and grade 4 analyze and find if the words in each analogy are synonyms or antonyms and complete the analogy by using a correct word.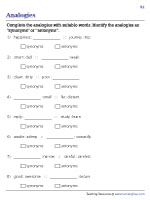 In these worksheets on analogies, 3rd grade and 4th grade children pay attention to how the words in each analogy are related, and complete it appropriately.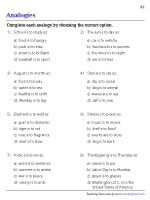 A treat for the budding grammarians in 4th grade, these exercises involve choosing the correct words to complete the set of noun-adjective analogies.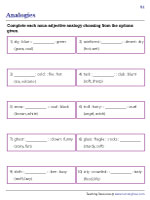 Each pair of words in these analogies exhibits an example-category relationship. Pick the most suitable word from the given options and complete the analogies.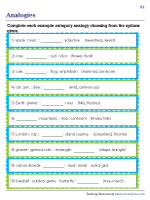 Yet another opportunity for 5th grade kids to flaunt their word wizardry, these worksheets require them to bring to completion analogies on rhyming words.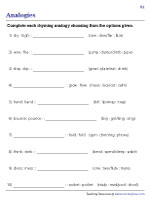 An object and its function make up the word pairs in these printable analogies worksheets. Check the option that showcases an object-function relationship here.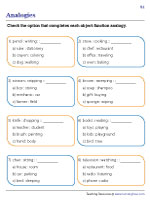 Identifying Types of Analogies
Types of analogies are many and varied. Take a quick look at the analogies in these pdf worksheets and key into the type of relationship they represent.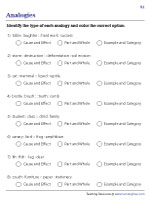 Assess how quick your children grasp the connection that drives an analogy. Watch them choose the correct words from the box to fill in the blanks in these analogies.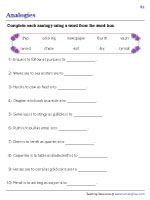 Analogies based on parts of speech such as nouns, verbs, and adjectives pervade this section, where kids arrive at the missing word that completes each analogy.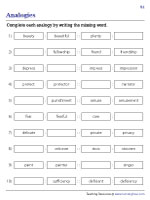 In these printable analogy worksheets, children comprehend user-tool connections as they figure out the missing users or tools to make the analogies meaningful.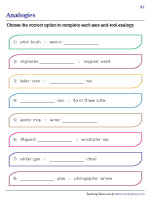 One set of elements is a whole and the other is a part of that whole in these analogies. Zoom in on the missing part or whole to bring each analogy to completion.