Synonyms Worksheets
Upscale your understanding of words with our free, printable synonyms worksheets! Synonyms are words with similar but not identical meanings. Make your writing vivid and captivating, and create an intriguing image in the mind of the reader as you practice with our engaging pdf worksheets on synonyms and hone your vocabulary.
Our synonyms worksheets are most recommended for grade 1, grade 2, and grade 3 kids.
CCSS: L.4.5.C, L.K.5.B
Identifying and Coloring Synonyms
Grab these synonyms worksheets pdf and direct 1st grade and 2nd grade kids to look at the pictures, read the words, and color the word that has a similar meaning.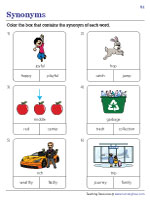 Replacing and Rewriting Sentences
Crank up your 3rd grade kids' uptake of synonyms by substituting the highlighted word in each sentence with a synonym in this printable synonyms worksheet set.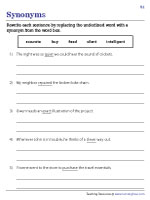 Framing Sentences with Synonyms
Watch your grade 3 kids' spotless use of synonyms cast a spell on their peers and teachers as they write sentences using each synonym pair given.