Punctuation Worksheets
Our free, printable punctuation worksheets are home to a selection of exercises that will provide children a thorough understanding of the various punctuation symbols and their uses. Watch kids get hands-on practice in inserting commas to separate items in a list, making use of commas with conjunctions, utilizing quotation marks in direct speech, and much more.
These punctuation worksheets pdfs are a must-have for young learners in kindergarten through grade 5.
CCSS: L.K.2.B, L.1.2.B, L.1.2.C, L.2.2.C, L.3.2.C, L.4.2.B, and L.4.2.C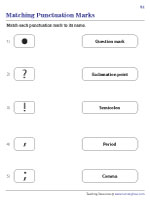 Children in grade 1, grade 2, and grade 3 get better at punctuating sentences with this pdf set, where they insert commas between items in a list.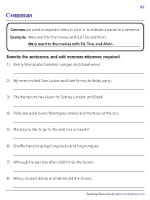 Review the rule of using a comma to join independent clauses with 3rd grade, 4th grade, and 5th grade kids using these punctuation worksheets pdf.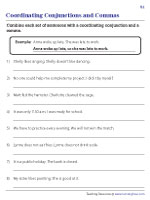 Quotation Marks in Direct Speech
Learners in grade 4 and grade 5 practice marking direct speech with commas and quotation marks in these printable worksheets on punctuation.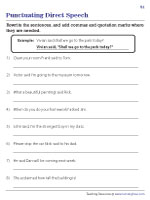 Delight 1st grade and 2nd grade children with fun-themed sentences in these punctuation pdfs, a great way to practice punctuating the end of sentences!