Adverb Worksheets
Our free, printable adverb worksheets with answers help children identify adverbs in sentences and introduce them to adverbs of different types like adverbs of manner, time, place, and frequency. Adverbs are called adjectives of verbs. Not only does an adverb add to the meaning of a verb, adjective, another adverb, or a whole sentence, but it also sheds light on the writer's perspective. A well-used adverb is symbolic of a careful and high-spirited endeavor the student has chosen to embark on. With different types of adverbs and their varied applications, there is more to adverbs than there appears to be.
These printable worksheets are curated for children in grade 2, grade 3, and grade 4.
CCSS: L.2.1.E, L.2.6, L.3.1.A, L.3.1.G, and L.4.1.A
Identifying Adverbs in Sentences
Empower children in grade 2 and grade 3 to delight in the endless possibilities of adverbs. The crystal-clear definition and example in each exercise help kids identify adverbs with ease.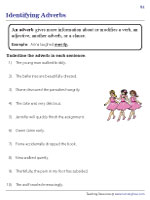 Adverbs Describing How, When, and Where
Adverb learning switches from exciting to super exciting with these how, when, and where adverbs worksheets pdf, where grade 3 and grade 4 kids identify how the adverb is modifying the verb.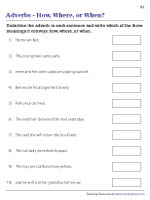 Watch young learners grow from a stumbling novice to a sure-footed adverb pro. This pdf adverb collection enables them to identify adverbs of manner.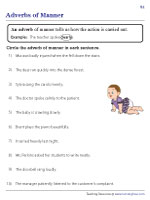 The nuances of adverbs are not a spot of bother anymore! These adverbs pdfs for 2nd grade and 3rd grade kids lay out adverbs of place with great clarity.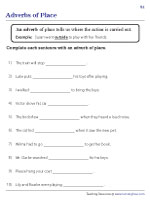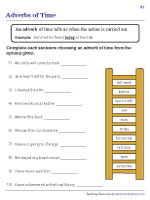 Choosing the Adverbs of Frequency
Help kids flourish in their grammar and continue their pursuit of excellence with these practice sheets that prepare them to use adverbs of frequency.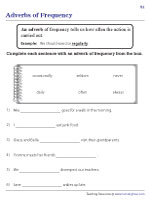 Degrees of Comparison in Adverbs
With the comparative and superlative forms in action, adverbs become an all-the-more-intriguing grammatical affair for young learners to revel in!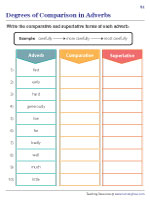 Relative adverbs make learning grammar a rewarding experience, as seen in these worksheets on adverbs for 3rd grade and 4th grade kids.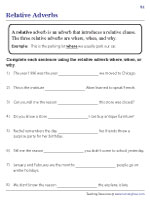 Put into practice yet another way of connecting clauses with this printable adverb set. Segue smoothly from one part to the next using the right adverb.