Determiners and Quantifiers Worksheets
Grammar

>

Determiners and Quantifiers
Add an additional layer of fascination to your grammar with our free, printable determiners and quantifiers worksheets! While determiners help identify things, quantifiers explain how many or how much of something we're talking about. Let kids not rest on their laurels and continue their grammatical voyage with our determiners and quantifiers worksheet pdfs, which cover the topic soup to nuts with crystal-clear definitions and oodles of example-driven preparation. Once you've had a firm grasp of the concept, put the knowledge into practice by doing the worksheets.
These pdf determiners and quantifiers worksheets are most recommended for kids in grade 3, grade 4, and grade 5.
Identifying the Determiner and the Noun It Determines
The spills and thrills of determiners will blow away children of 3rd grade and 4th grade! In this determiner worksheet set, read the sentences and recognize the determiners and the nouns/noun phrases that are being determined.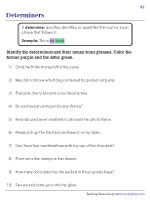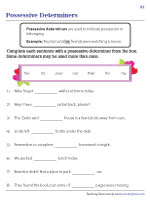 Completing Sentences with Correct Quantifiers
This part of our printable determiners and quantifiers worksheets, where children in grade 4 and grade 5 get to the heart of words like "few" and "little" and complete sentences with correct quantifiers, borders on captivating!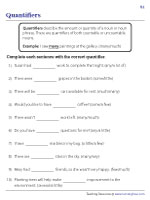 Using the Correct Demonstrative Determiner
Watch kids in grade 3 and grade 4 beef up their skills in demonstrative determiners. Complete the sentences with correct demonstrative determiners. Use this/that for singular nouns and these/those for plural nouns.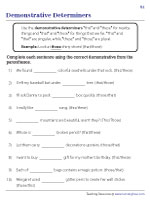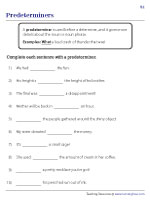 Lend practice more weight with our using-the-correct-distributive-determiner exercises! There's a box awash with distributive determiners, and kids complete each sentence with an appropriate distributive determiner.