Interjection Worksheets
Interjections are exquisite utterances that spring exciting surprises during our conversations. The "Yikes!" and the "Yep" instantly catch attention, and most importantly assist in expressing emotions easily. Come interjections, and your English will instantly switch into full gear. Whether you are ecstatic, down in the dumps, or have butterflies in your stomach, you will find immediate refuge with one interjection or the other. Explore our free interjection worksheets at ease, and be as expressive as you could be.
These pdf worksheets are ideal for students of grade 3, grade 4, grade 5, and grade 6.
CCSS – L.5.1.A
Interjections transform the conversation from a monotonous affair to a refreshing experience. This free interjection chart pdf acquaints kids in grade 3 and grade 4 with commonly used interjections like "Oh no!", "Ouch" and more.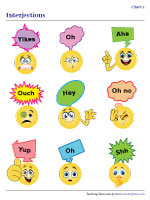 Completing Sentences with Interjections
Children of fourth grade and fifth grade warm up to interjections with this cut and glue activity pdf, a nice accompaniment to a rather dull spell of words that make our sentences.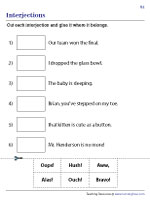 Writing Sentence with Interjections
Interjections work like a charm to brighten the prospects of aspiring English learners world-wide. This printable worksheet for grade 5, and grade 6 gives students an opportunity to use interjections in sentences.