Contractions Worksheets
Our free, printable contractions worksheets are meticulously prepared and packed with an exciting bunch of commonly used contractions. Don't miss out on this eclectic collection that includes charts and exercises such as writing contracted words, making negative contractions, telling possessives and contractions apart, and much more.
We recommend these contraction worksheets pdf for grade 1, grade 2, and grade 3 kids.
CCSS: L.2.2.C
Great advocates of brevity, contractions add zest to a dull rally of words. This section of our printable common contractions worksheets features a set of charts.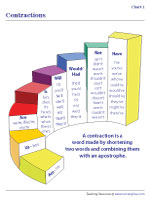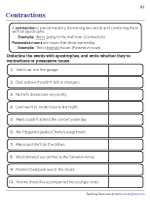 Augment 2nd grade and 3rd grade children's stock of contracted words and upskill them with these exercises, home to a bunch of negative contractions.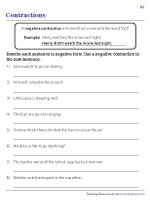 Walk 1st grade and 2nd grade kids through these writing contractions worksheet pdfs, where they write the contracted forms of words.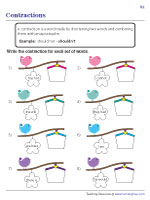 Instruct grade 1 and grade 2 children to complete sentences with contracted forms of words in these printable worksheets on contractions in sentences.