Adjective Worksheets
Our free, printable adjective worksheets with answers combine knowledge with practice, and touch important aspects of adjectives with a gradual-yet-eventful progression from simple concepts such as identifying adjectives, and describing pictures, to the intricate ones like degrees of comparison, types of adjectives, ordering adjectives, and much more.
These adjective worksheets pdfs are designed for children of kindergarten through grade 7.
CCSS: L.K.5.B, L.1.1.F, L.2.1.E, L.3.1.G, L.4.1.D and L.7.2.A
Describing Pictures with Adjectives
Familiarize tiny tots in kindergarten and grade 1 with adjectives or words that are used to describe things in these adjective worksheet pdfs.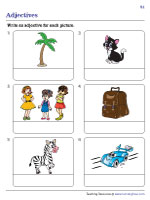 Recognizing Adjectives and Nouns
Transform grade 2 and grade 3 kids into little grammarians with these printable worksheets on recognizing adjectives and identifying the nouns they modify.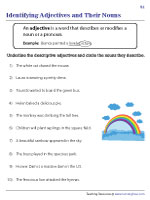 Writing Antonyms for Adjectives
This section includes pdf exercises where kindergarten and 1st grade kids read the adjectives and write their antonyms or words that mean the opposite.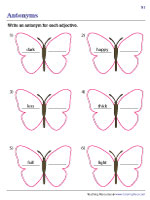 Completing Sentences with Adjectives
Check if 1st grade and 2nd grade kids can choose an apt adjective to describe nouns using these worksheets on completing sentences with adjectives.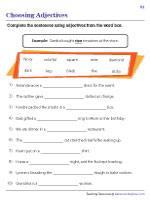 Comparative and Superlative Adjectives
Kids in grade 4 and grade 5 use comparative adjectives to compare two objects, and superlatives to compare more than two objects in these adjectives worksheets.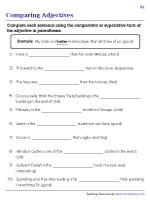 Changing Adjectives to Adverbs
Kids leave no stone unturned as they work their way through these exercises on changing adjectives into adverbs, and differentiate between the two.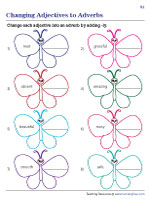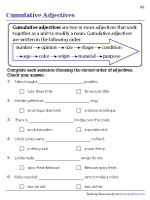 Continue your good run by constantly adding to your synonyms with pdf exercises that get 2nd grade and 3rd grade children finding synonyms for adjectives.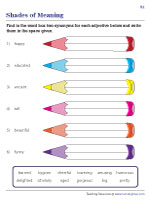 Spotting and underlining adjectives speaks volumes as to how well grade 1 and grade 2 learners have grasped the concept of identifying adjectives.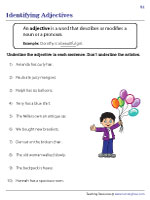 Start hunting for possessive adjectives in these sentences and acquaint children with words like "my", "your" and "their" to express ownership or possession.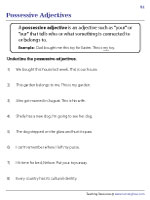 A predicate adjective usually comes after a linking verb rather than before a noun. Determine whether the underlined words are predicate adjectives or predicate nouns.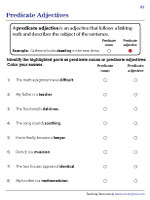 This section of our adjective worksheets with answers pdf helps grade 6 and grade 7 learners practice punctuating adjectives that describe attributes of the same noun.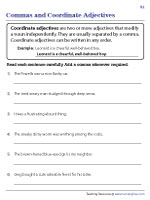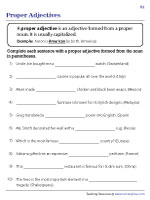 Compound or hyphenated adjectives, which occur when two words team up to modify a noun, usher in tons of pick-me-up for 6th grade and 7th grade kids' writing.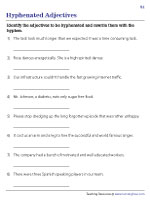 In this printable collection, the gifted young writers read the sentences and identify the present and past participles functioning as adjectives.