Question Words Worksheets
Our free, printable question words worksheets are curated for young learners who are incredibly curious and can't seem to get enough information. In order for children to participate in discussions, demonstrate their knowledge of everyday topics, and gather information about the world around them, they must be taught to ask questions, and hence question words.
This collection of question words worksheets pdf is most appropriate for tiny tots in kindergarten, grade 1, and grade 2.
CCSS: L.K.1.D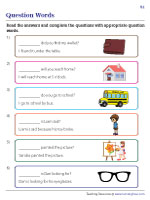 Completing Questions with Who or Whom
Kids learn that "who" functions as a subject in a sentence, and "whom" refers to the person on the receiving end of the action in these who and whom question word worksheets pdf.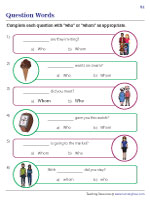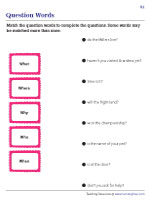 Fill in the Blanks with Who or What
Kindergarten kids complete sentences in these printable who or what question words worksheets, using "who" to refer to people and "what" to refer to things.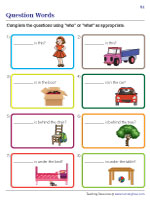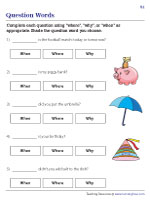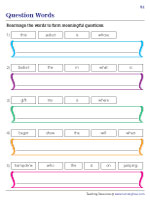 Question Words What and Which | Cut and Glue
The question word "what" can sometimes replace "which". Direct grade 1 and grade 2 kids to use "which" when they find the preposition "of" in these exercises on question words.