Subject and Predicate Worksheets
Our free, printable subject and predicate worksheets define and exemplify subjects and predicates. The subject is what or whom the sentence is about, while the predicate talks about the subject. Together, the subject and predicate form the two pillars on which a sentence stands. Our subject and predicate pdfs familiarize kids with different types of subjects and predicates too.
These subject and predicate pdf worksheets are ideal for kids in grade 2, grade 3, and grade 4.
CCSS: L.3.1.F
Identifying Subjects and Predicates
Children in 2nd grade and 3rd grade become adept at breaking sentences into two parts in this identifying subjects and predicates worksheet collection.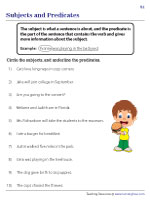 Help young learners in grade 2 foster the skill of writing effective predicates with this section of our printable worksheets on subjects and predicates.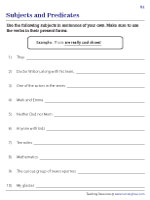 Simple Subjects and Simple Predicates
Direct kids in grade 4 to find the simple subject: the noun or the pronoun that tells who the sentence is about, and the simple predicate: the verb that tells what the subject does.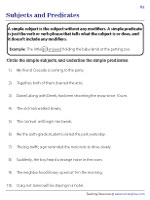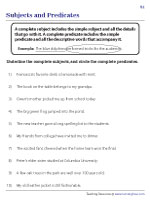 Compound Subjects and Predicates
With compound subjects and predicates onboard, the topic of this set is in full gear. These printable subject and predicate worksheets solidify the concept with lots of practice.