Active and Passive Voice Worksheets
What attributes to the active and passive voices such a great grammatical cachet is the fact they afford users of the English language amazing range and flexibility. There is little doubt that the active voice is more often used than the passive, but there are occasions when the passive becomes an absolute must. An exhilarating bunch of exercises buoyed by our desire to help students perfect their grammar, our active and passive worksheets prepare learners to use the two voices with precision, detail, and insight.
These pdf worksheets are a fantastic practice resource for students of grade 7 and grade 8.
CCSS: L.8.1.B and L.8.3.A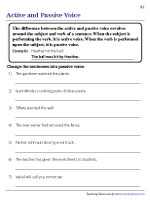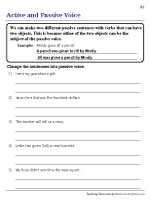 Rewriting Sentences in Active Voice
It's time for children to convert the passive voice to active voice. Provide your nascent grammarians in 7th grade and 8th grade help and support as they convert the passive voice to the active.