Pronoun Worksheets
Our free, printable pronoun worksheets include definitions, examples, and exercises involving the different types of pronouns. Pronouns are used to replace nouns in a sentence. However, they must match the number, gender, and point of view of the nouns that they are replacing. That's where an extensive practice on pronouns, as provided by this set of worksheets, comes in handy.
We recommend our pronoun worksheet pdfs for kids in grade 1 through grade 5.
Personal pronouns can function as nouns or noun phrases. Let little ones in 1st grade know more about words such as she, he, it, they, etc.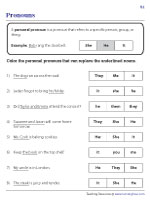 Possessive Pronouns | Cut and Glue
Have your 2nd grade kids been confusing the possessive pronouns with contractions? Bring the confusion to an end with these pdf pronoun exercises.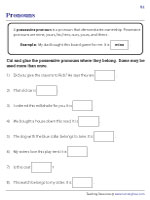 Let 3rd grade and 4th grade kids refer to persons or things that cannot or don't need to be identified specifically using indefinite pronouns.