Letter Q Worksheets
Take alphabet learning one step at a time with our free, printable letter Q worksheets. With activities such as tracing, printing, and coloring stacked on top of each other, the letter q practice cocooned in this collection reaches staggering heights. Ripples of excitement will keep fluttering through little ones as they explore every nook and cranny of our letter Q exercises.
Our uppercase and lowercase letter q worksheets pdf are ideal for kids in pre-k and kindergarten.
CCSS: L.K.1.A
A burst of brilliance designed to elevate any study session, this section of our printable letter Q worksheets is home to a coloring activity featuring capital letter Q.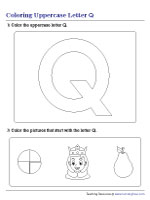 Prepare pre-k and kindergarten kids to take on writing challenges with this letter Q tracing worksheet pdf, where they trace along the fonts of capital Q with ease and precision.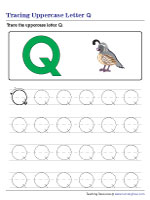 Primed to face-lift the foundational skill of writing, kids will have no trouble forming the shape of a capital Q as many times as it takes for them to get it down pat.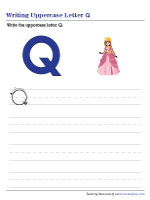 Colors sneak their way into this series once more, as kids in pre-k and kindergarten splash about in shades of their choice, coloring the lowercase Q, along with the pictures of q-words.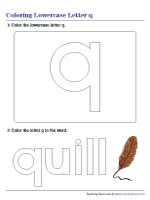 Repetition is key in this letter q worksheet pdf that tasks kindergarten kids with tracing along the dotted fonts of a small q until it is etched onto their minds.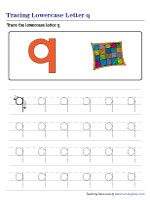 Groomed by scads of tracing practice, young learners are sure to sail through this exercise, where they are required to write the small letter q in the lines provided.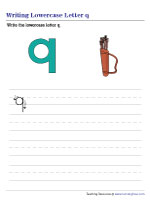 Letter Q Words and Pictures Chart
Worthy of your pre-k and kindergarten child's study wall, this printable letter Q chart has more than enough room for a small q, a capital Q, and plenty of labeled pictures of q-words.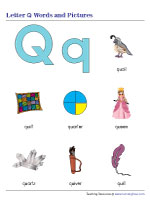 Uppercase Q and Lowercase q Mixed Review
A Whitman's sampler of letter Q activities is exactly what's on offer in this uppercase and lowecase review worksheet, where Q and q vie with each other to steal the limelight.