Letter P Worksheets
Our free, printable letter P worksheets help kids learn the formation of the letter P and the sound of the letter p by saying the name of the pictures aloud. These letter P activities also provide hands-on practice in letter P recognition in uppercase and lowercase. Walk through our range of exercises and make friends with the letter P!
Our uppercase and lowercase letter P worksheets are ideal for kids in pre-k and kindergarten.
CCSS: L.K.1.A
This unique fun-to-color handout is sure to blow away budding learners. Color the uppercase letter O and then color the pictures that begin with the letter o.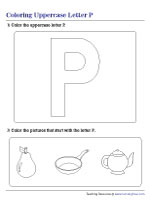 Trace along the dotted lines and practice the formation of the uppercase letter P with this exclusive worksheet designed for kids in pre-kindergarten.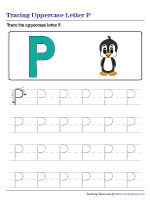 Watch pre-k and kindergarten kids feast on the activity in this printable uppercase letter p worksheet, with numbered arrows for guidance to print the uppercase letter P.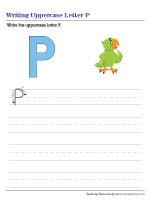 The lowercase letter p will spring into life as soon as pre-k kids color it. Use a crayon and color the letter; also shade the first letter p in the given word.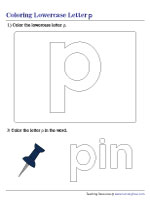 Featuring lines of lowercase letter p, this kindergarten resource requires learners to trace along the dotted lines to form the letter p.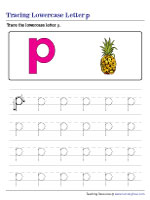 Sneak in some writing practice with this lowercase letter p pdf. Pay careful attention to the guidelines of letter p formation and start writing.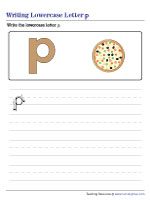 Print and laminate this pdf chart and let pre-k and kindergarten kids practice recognizing the letter p and naming the pictures that start with the letter p.