Letter S Worksheets
Our free, printable letter S worksheets have all the get-up-and-go you need to succeed in tracing, printing, and coloring the letter S. Toggle between uppercase S and lowercase s as you let your alphabet fascination grow by leaps and bounds in this bundle of pdf exercises. Look forward to an amazing letter S study time when amazement only rockets with the passage of each exercise.
Our uppercase and lowercase letter S pdf worksheets are ideal for kids in pre-k and kindergarten.
CCSS: L.K.1.A
Toddlers will be in a transport of delight as they get working on this S-themed activity, where they color the uppercase letter S and pictures of words beginning with the letter S.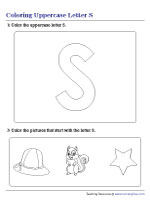 Watch the capital letter S rise to prominence in this printable uppercase letter s tracing worksheet. Task pre-k kids with focussing on the letter's unique shape and tracing the dotted curves to let the shape of S sink in.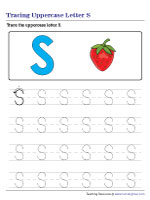 You'll be impressed when kindergarten stars come out swinging for the fences by writing the uppercase letter S with style and precision in this handy pdf letter S worksheet.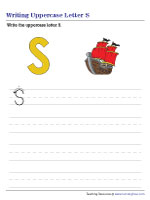 Full of creativity inspired by the letter s, pre-k kids will be a joy to behold in this coloring lowercase letter s worksheet pdf, where they recognize the letter S off the top of their head!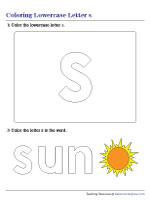 Much like its big sibling, the lowercase letter s is also nailed with excellent fine motor skills. Our printable tracing lowercase s worksheet will give your young writers a golden glow of pride.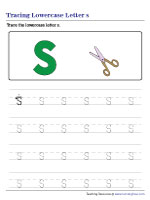 Develop superlative letter-formation skills with this handy no prep worksheet pdf, which does far more than its bit, helping little learners gain confidence in writing the lowercase letter s.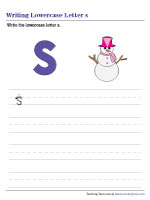 Letter S Words and Pictures Chart
Pre-k and kindergarten champs will be eager to grab this letter s words and pictures chart, which puts an end to their scouting for resources to make learning S all the more exciting.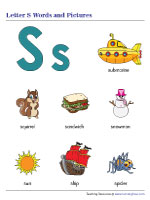 Uppercase and Lowercase S Mixed Practice
Direct kids to color, circle, and trace capital and small letter S in this uppercase and lowercase mixed review worksheet, designed to jazz up kids' letter-learning practice sessions.