Letter T Worksheets
Equip kids with our free, printable letter T worksheets where they join the alphabet safari and celebrate the letter T with activities as diverse and pleasurable as coloring, tracing, and printing, all of which so determined and proudly centering around the capital T and the small t, making this set of letter T worksheet pdfs a tour de force.
Our uppercase and lowercase letter T worksheets are ideal for kids in pre-k and kindergarten.
CCSS: L.K.1.A
Part of the spirit of this uppercase letter T worksheet pdf is how colors lend their weight to the capital letter T. Equally important is coloring pictures whose names begin with T.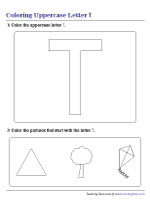 Welcome aboard this printable capital T tracing worksheet, where little hands bestir themselves tracing the uppercase T, giving their hopes of great penmanship a pick-me-up.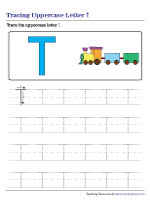 No practice is too much practice when it comes to printing the uppercase letter T, so set pen to paper and start writing as many letter Ts as you can. The more you do, the quicker you master T.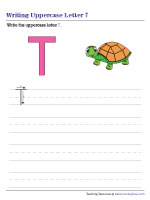 Learning can never be this colorful! Inspire letter recognition in pre-k and kindergarten kids by employing our coloring lowercase letter t worksheet pdf and forming a lasting bond with the letter T.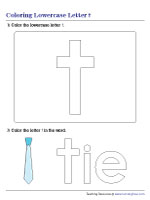 Watch how tracing comes across as a breezy task in our handy tracing lowercase letter T practice worksheet. Kindergarten kids will gain confidence with each stroke, and soon they'll roar to victory in letter t.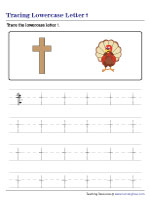 The tracing to printing transition will leave kindergarten kids in utter fascination and enchantment with the small t, so lend them support galore as they start writing the small letter t with relish.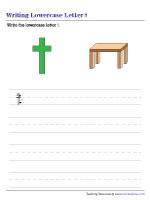 Letter T Words and Pictures Chart
Flit from T words to T pictures as you please in this printable chart. Your pre-k and kindergarten kids' study will look half-pie without this chart, so print it and put it up on your wall.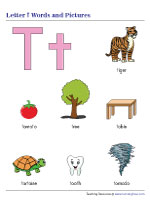 Uppercase and Lowercase T Mixed Practice
Distinguish between capital T and small t while you also learn a few words beginning with the letter T in this uppercase and lowercase letter t mixed review worksheet featuring 4 interesting exercises.