Letter X Worksheets
Our free, printable letter X worksheets make it their business to help kids recognize the capital and small letter X on the strength of diverse exercises equipped to make children's exposure to the letter as multifaceted as could be. Give your child's practice the depth and variety it deserves through the coloring, tracing, and printing exercises in this pdf set.
Our uppercase and lowercase letter x worksheets are ideal for pre-k and kindergarten kids.
CCSS: L.K.1.A
Kids will give a hundred percent, bunching up with a color that they think will help give the capital letter X its due, taking advantage of this activity as a tool to let their creativity shine.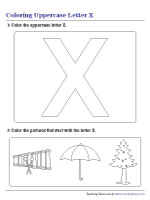 Strike it big with this printable tracing uppercase letter x worksheet, a stepping stone to proficiency. Display your tracing best with the letter X and make a splash.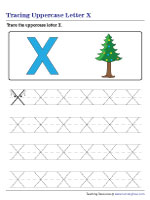 With this printing uppercase letter x worksheet prepare the way for the little explorers in pre-k and kindergarten to perfect the technique of writing the capital letter X.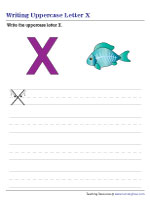 Not only does coloring make kids writing-ready, but it also boosts their fine motor skills, as in this printable pre-k lowercase letter x coloring worksheet, where the task is for children to color a small letter x.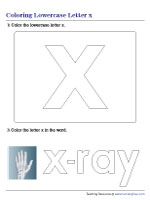 Direct the little ones to trace out the dotted lines that form the letter x in this part of our letter x worksheets, and watch them fill out the page with perfect xs.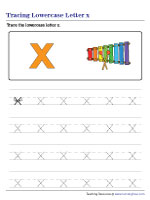 Build a key foundational skill with this printing lowercase letter x pdf resource, drafted for kindergarten kids. Putting all their tracing skills to use, children will find this a piece of cake.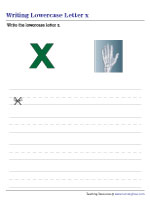 Letter X Words and Pictures Chart
This exclusive letter-X picture and word chart has a charismatic appeal and magnetic quality, giving it a conspicuous place in your pre-k or kindergarten kid's study!