Letter W Worksheets
Interesting and groundbreaking, our free, printable letter W worksheets feature ample practice for tiny tots in identifying and printing the uppercase and lowercase letter W to master this letter at their own pace. While kids excel in letter recognition in this pdf toolkit, they also get to expand their vocabulary on the double, making this set a must-have.
Our uppercase and lowercase letter W worksheets work best for pre-k and kindergarten kids.
CCSS: L.K.1.A
Set your little ones on an amusing coloring adventure as they color the letter, standing tall in this pdf uppercase letter W coloring worksheet designed for pre-k kids.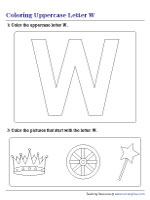 The key for kids to nail writing the letter W is to begin by tracing it. Practice tracing the uppercase letter W with relish in this print ready tracing practice sheet.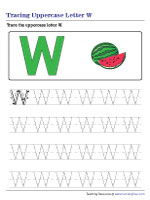 Feed the practice-hungry kindergarten kid with oodles of practice in printing the uppercase W with this pdf, and watch them distinguish between capital and small letter W with ease.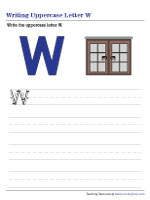 This coloring worksheet hits the nail on the head by letting kids shade the small letter w in the word and its figure, inspiring in them a love for art and learning early on.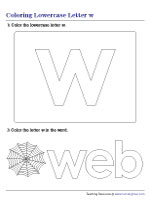 Thanks in no small part to our printable lowercase letter w tracing worksheet, kids get to lead a charmed life, with some valuable alphabet practice handed to them on a silver platter.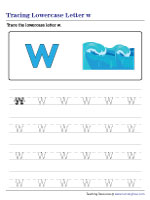 Get a gold star for your writing skills by utilizing this worksheet, which provides great practice in writing the lowercase letter w. With this worksheet at play, writing will be at its best!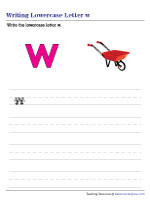 Letter W Words and Pictures Chart
Capture the imagination of your alphabet whiz in pre-k or kindergarten with this printable letter W words and pictures chart to visually imprint the letter W in young minds.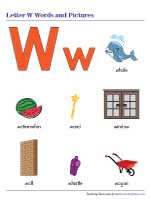 Uppercase and Lowercase W Mixed Practice
Let kids etch the letter W in their minds as they work their way through this uppercase and lowercase w revision worksheet. Complete this exercise by coloring, circling, and tracing the letter W.