Letter B Worksheets
Kick-start your B learning with our free, printable letter B worksheets! Delight your kids with fun letter B activities that blur the line between playtime and study time. From tracing and coloring to word charts and printing practice sheets, there is something to catch the attention of every little champ. So, let them become best friends with B!
These uppercase and lowercase letter b worksheet pdfs are ideal for pre-k and kindergarten kids.
CCSS: L.K.1.A
Know what's more fun than tracing? Coloring! Next in our letter B worksheets is this exciting coloring activity, where pre-k kids go wild with colors to fill in the shape of B.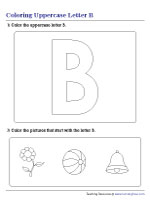 Practice, practice, and practice. This letter b tracing worksheet for kindergarten is loaded with practice. Guided by the instructions, kids trace the uppercase B here.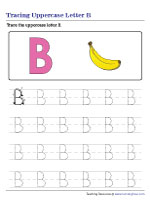 Give little ones oodles of practice printing the capital letter B in this exercise. Watch their little fingers grip a pencil confidently as they draw the shape of uppercase B.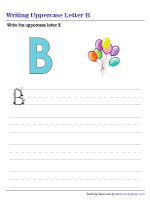 This pdf coloring letter b exercise is a clarion call for practicing the letter b. Instruct pre-k kids to color the lowercase b and the letter b in the word.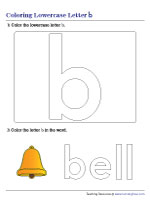 If you're done with B, you must meet b! With this tracing activity, children practice drawing the shape of the lowercase b until they're able to do it on their own.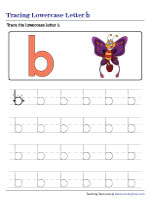 Mark the transition from tracing to printing with this letter b worksheet pdf that tasks tiny tots with repeatedly trying their hand at making the shape of the small letter b.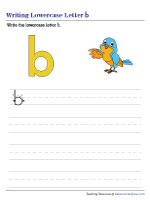 Letter B Words and Pictures Chart
What a gorgeous piece of decoration this printable B chart is for every kindergartner's study! It will let them get used to the letter B, imbibing its spirit all day every day.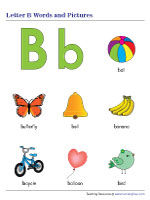 Uppercase and Lowercase B Mixed Practice
How well have your kids gotten to know B and b? Put their grasp to the test with this uppercase and lowercase letter B worksheet for kindergarten kids and review all they've learned about the letter.