Letter C Worksheets
Our eclectic collection of free, printable letter C worksheets boosts early literacy skills and makes learning the letter c easy-breezy. Be it identifying, tracing, coloring, or other exercises that kids hold dear, these worksheets full of pictures and words beginning with the letter c have you covered. The uppercase and lowercase letter c share the spotlight here.
These uppercase and lowercase letter c worksheet pdfs are ideal for pre-k and kindergarten kids.
CCSS: L.K.1.A
Get toddlers in pre-k working on this letter c worksheet showcasing an uppercase C coloring activity. Pre-K kids can choose any colors they like to complete the activity.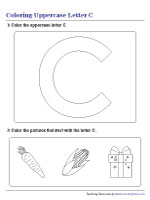 Cement children's learning with this worksheet on tracing the uppercase c. The ideal way to learn the capital C, this exercise expands their knowledge of the alphabet.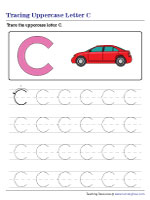 Get writing practice off to a flying start with this printing uppercase letter c worksheet that expects budding scholars to take command of their pencils and write the letter C.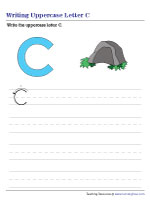 This coloring activity helps kindergarten kids learn the lowercase letter c. Coloring the small c in the word marks their foray into basic spelling and vocabulary.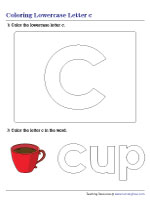 Little ones enjoy an alphabet activity in this lowercase letter c worksheet, which introduces them to the lowercase c. The task is for them to practice tracing the small letter c.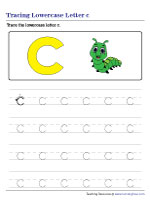 Make a quick pit stop in this exercise, where kids flex their fine motor skills as they make the shape of the small letter c, to make the child's alphabet journey more fun!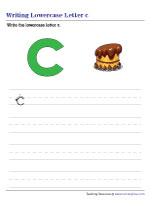 Letter C Word and Pictures Chart
Little ones will rejoice in this printable letter c words and pictures chart with everyday C words such as cake, crab, and cow. Print this chart from our letter C worksheets.