Letter D Worksheets
Discover our free, printable letter D worksheets that are structured to stoke the potential of budding minds. These uppercase and lowercase letter d activities are perfect for a child's attention span. Kick off with coloring and gain steam with tracing, before printing and letting objects with d and a quick D review take over the reins.
These uppercase and lowercase letter d worksheet pdfs are ideal for pre-k and kindergarten kids.
CCSS: L.K.1.A
What better way to teach pre-k kids the letter D than a coloring activity? This printable uppercase letter D worksheet etches the shape of the uppercase D into their minds as they color away.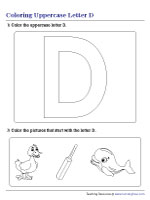 Teaching kids to trace the capital D forms the fulcrum of this letter D worksheet, where spontaneity shines through each time your child writes the letter D.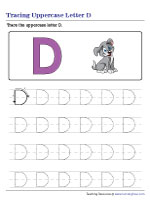 Let kindergarten kids make a vertical straight line first and follow it up with a curved line touching the ends of the straight line. That's all there is to writing the capital letter D.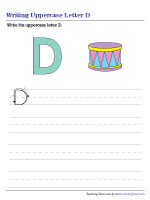 As D disappears from the scene, d grandly assumes the office. Let kids color this lowercase letter d worksheet, which is undoubtedly the pièce de résistance of this collection.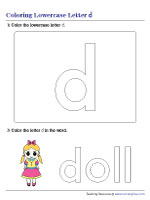 Don't be complacent with your D victory! Keep at it to win your d game too! This task retains little ones' focus with pictorial tracing directions and an image near the top.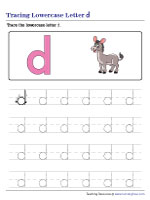 Remember that a straight line and a curved line join hands, pretty much the way they do with the uppercase D, to form the shape of the small letter d.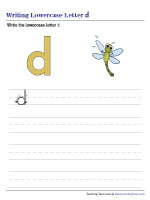 Letter D Words and a Picture Chart
An all-in-one recap of all things D, this chart is the crown jewel of our letter d worksheets for pre-k kids. Pin it up so your kids can learn a little every day.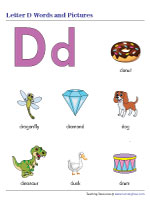 Uppercase D and Lowercase d Mixed Review
Round out practice with this printable uppercase and lowercase letter d worksheet that has a bit of everything. Ideal for a quick review, it caters for your kindergarten kids' diverse letter D/d tastes and interests.