Letter E Worksheets
Be well on your way to mastery with our free, printable letter E worksheets. Playing host to activities like coloring, tracing, and printing this set is chock-a-block with letter e practice, ensuring kids get the hang of the fifth letter of the alphabet. Take them on a journey through the uppercase and lowercase e, visiting words that begin with E.
Our uppercase and lowercase letter E worksheet pdfs are ideal for kids in pre-k and kindergarten.
CCSS: L.K.1.A
Few activities sweep tiny tots off their feet more than coloring. Toddlers recognize the uppercase E, while getting creative to color the pictures in this letter E worksheet.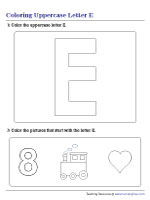 Revisit horizontal and vertical straight lines with this letter E worksheet pdf for pre-k. Offer ample tracing practice and help young learners expertly write the capital E.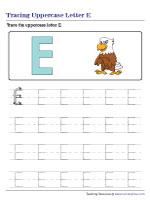 Remind tiny tots that four straight lines form the team that makes an uppercase E, as they go about printing the capital letter E in this printable uppercase letter E worksheet.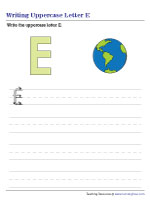 A world of color, this activity calls for filling in the lowercase e with varied hues. By the end of it, pre-k kids will have no trouble identifying the small e.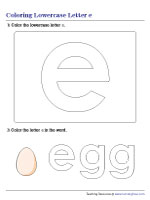 Let kids in kindergarten know the small e is as worth making a song and dance about as the big E. Get them to brush up on curved lines as they trace the lowercase e here.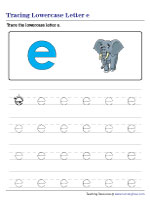 Simple but efficient, this lowercase letter e worksheet tasks kids with forming the shape of a small e over and over again to emerge as e scholars beyond compare with this top-tier practice.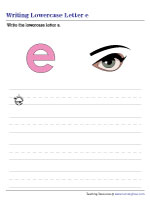 Letter E Words and Pictures Chart
Instances of the letter E pop up in every corner of this pdf chart. Watch pre-k kids keep their eyes peeled for more objects that boast the letter e amid colorful pictures.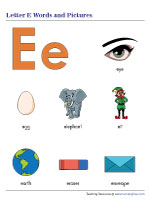 Uppercase E and Lowercase e Mixed Review
Refreshing bits of letter e practice through and through, this printable letter E worksheet will have kindergarten kids identifying, tracing, and coloring, all in one go.