Letter F Worksheets
Our free, printable letter F worksheets are proof that few letters feature more fun and frolic than F. Structured to make the best of even the briefest study sessions, they cover tracing, coloring, printing, and more, fulfilling every letter F wish that your child makes known. It's time for kids to practice the sixth letter of the alphabet with utmost enthusiasm!
Our uppercase and lowercase letter F worksheets are ideal for children in pre-k and kindergarten.
CCSS: L.K.1.A
Playtime devoid of coloring is no playtime at all, is it? This exercise lets pre-k kids play around with varied hues as they color the uppercase F and other pictures.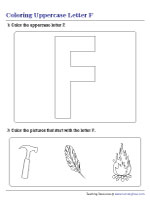 Look no further than this printable uppercase letter F worksheet to break the ice with tracing. Watch kids combine horizontal and vertical lines to form F by themselves in no time!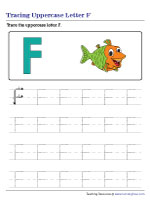 All your kindergarten kids need is just one long vertical line and two shorter horizontal lines as they get the hang of forming the shape of the capital letter F in this exercise.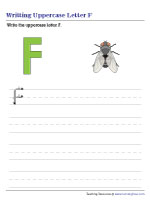 With F done and dusted, this printable lowercase letter F worksheet shifts the focus to f. Packed with splendid fun, this activity gets pre-k kids choosing any color they want to fill in the lowercase f.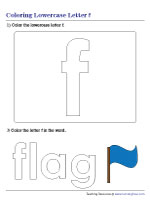 We bet kindergarten kids will cherish their f time as much as they relished their F time. This tracing letter f worksheet pdf for kindergarten features stupendous practice on the lowercase f.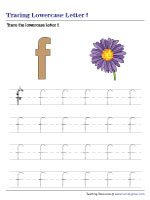 Ensure budding scholars keep within the confines of the lines in this pdf worksheet, as they write the small letter f as many times as it takes for them to truly master it.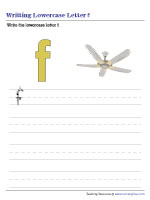 Letter F Words and Pictures Chart
Elevating the efficiency of our printable letter F worksheets for toddlers is this colorful chart. Designed for your pre-k and kindergarten kids' study wall, it ensures daily exposure to all things F.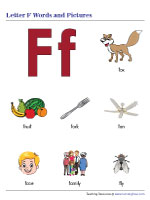 Uppercase F and Lowercase f Mixed Review
This pdf letter F worksheet for kindergarten has smaller versions of all the activities in this series. You can't ask for a better way to wrap up a fruitful letter F study session!