Letter G Worksheets
Embark on a voyage across the letter G with our free, printable letter G worksheets. Designed to maximize kids' attention spans, this set features activities like identifying, coloring, tracing, and printing the letter g. With focus split between uppercase G and lowercase g, there's also a chart for kids to put up in their study.
Our uppercase and lowercase letter g worksheets are recommended for children in pre-k and kindergarten.
CCSS: L.K.1.A
Say hello to the capital letter G in this exciting coloring activity pdf. Unleash your creativity as you revel in this learning experience crafted with utmost fun in mind.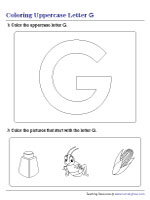 Tip your hat to the uppercase G with this printable uppercase letter G worksheet for pre-k and kindergarten kids. Give little ones all the practice they need as they trace their way to mastery in capital G.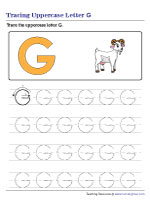 Yet another splendid opportunity for children to run into G, this worksheet involves forming the shape of uppercase G again and again until everything is inch-perfect.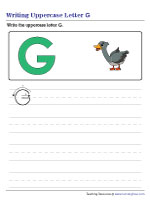 Like it or loathe it, g just tags along everywhere G heads! The task in this printable lowercase letter g worksheet is for pre-k and kindergarten kids to fill in the letter with colors of their choice.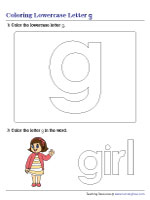 Branch out into the lowercase g with the same grace and poise. Let kindergarteners flaunt their fine motor skills as they practice tracing the small g over and over again.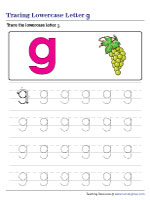 Watch all the tracing practice kids have enjoyed thus far climax in this spectacular exercise, where they write a small g repeatedly, sans support from dotted lines.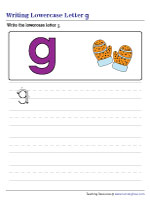 Letter G Words and Pictures Chart
Jazzing up our printable letter g worksheets for pre-k is this chart featuring both the uppercase G and lowercase g, alongside pictures and words that begin with G.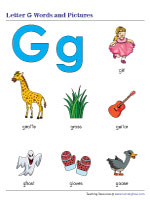 Uppercase G and Lowercase g Mixed Review
The ultimate conclusion, our upperase and lowercase letter g worksheet pdf contains multiple exercises on the letter G and words starting with G. From tracing to coloring, the exercise has it all.