Letter H Worksheets
Get the better of your peers with our free, printable letter H worksheets. This range of identifying, coloring, tracing, and printing activities is sure to empower kids to excel in both the uppercase H and the lowercase h and win the series in a clean sweep. Also included is a colorful chart awash with pictures and words beginning with h.
Our uppercase and lowercase letter h worksheet pdfs are ideal for pre-k and kindergarten kids.
CCSS: L.K.1.A
Engrave uppercase H on to your kids' mind with this printable letter H worksheet for pre-k. Let them have their way with a palette of hues, coloring the letter and pictures.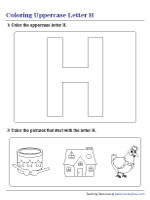 It's raining tracing practice in this uppercase letter H worksheet pdf for toddlers, whose little hands flit across the page, tracing with all their might until they conquer the uppercase H.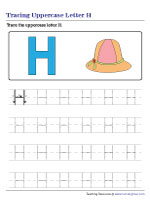 Bridging two long vertical lines right in the middle using a short horizontal line is just the trick pre-k and kindergarten kids need to master to come out on top in this worksheet.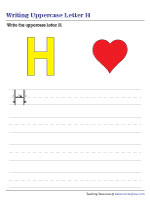 Joined at the hip are H and h! If you've met one, you can't leave without saying hi to the other! Tiny tots in pre-k and kindergarten will frolic in a flurry of colors, getting up-close with lowercase h.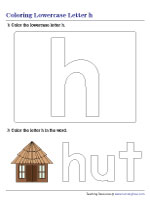 Roll out the red carpet for the lowercase h, as you dole out the tracing practice and guide kindergarten kids to mastery over the lowercase version of the eighth letter.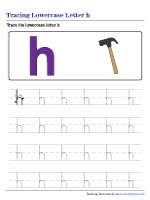 Watch little fingers work their magic over this lowercase letter h worksheet pdf, painstakingly forming the simple shape of a small h over and over again until their h is letter-perfect.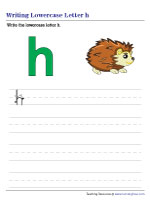 Letter H Words and Pictures Chart
Pre-k and kindergarten kids will thank this printable letter H chart for making H learning such a breeze. Packed to the roof with pictures and words that start with H, it'll prove invaluable for kids.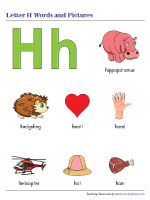 Uppercase H and Lowercase h Mixed Review
Call it the jewel in the crown, this uppercase and lowercase letter h worksheet pdf offers a little taste of all the letter h activities, making it a hive of letter H industry.